[TRANSPARENT/GLITTER] BTS BALLOONS
Customer Reviews
Write a Review
Ask a Question
Cute, Sparkly, and Even Works For Devices Not On The List
The case seems to be well assembled and durable, with no shortage of glitter to be seen! There might almost be too much glitter (as if that's a thing)! My only complaint is that there wasn't an option for a 4th generation iPod, but with a quick specs check, I determined that the iPhone 4 case would work just as well and I'd make whatever work. When I'm charging my iPod in the doc, I slide it down to the bottom of the case and it fits just fine, and when I'm using the camera, I just slide my iPod to he top of the case to match up with the camera hole and volume buttons. I knew that would be the case (ba dum shiiiing) when I ordered it, though, so I'm not complaining! The case is durable and cute, and my iPod fits in the case snug on the sides without popping out easily, so I'm happy!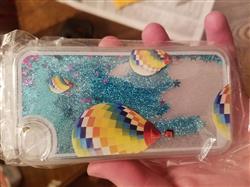 01/17/2020
Therése A.
Sweden
Easy and good
The cases looked really nice and the whole process was easy.
When I first reviewed it,
When I first reviewed it, I was amazed on how beautiful it looked. This case really helps me pass time cause I can just flip it around and it never fails to entertain me. Thank you for having good customer service.
Loved the case
Loved. It's so good. Can't wait to shop again in this store
So cute!!!
The case is perfect! I love it a lot. It seems sturdy and made well. It is thicker than I expected but it's nothing too bad. The only problem to be had was I was originally sent the wrong phone case. I ordered a glittery silver case and I received a pink glittery case. With just one email we got it all sorted out! I now have the correct case in hand! Very professional during the entire situation!